Intelligent & automated
Data Preparation

We extract, normalise and structure your data from text, tables and databases into machine-readable form
Book an Online Demo
… and get free proof of concept.
Tables are no longer the best way to go

Two-dimensional data structures are inflexible and can represent only a fraction of the information depth that modern web applications require. Mostly filled manually, they are also prone to inconsistencies, content errors and impure data records.
Automatic extraction without manual data preparation
Using algorithmic data analysis with machine learning techniques, we extract relevant inventory data from any source, such as tables and texts, to cleanse it.. The analysis also detects impure information pairs, such as a color description hidden in a table field for general info. The entire process is automated.
The DNA of your data: Attributes & Values
A new data collection is formed from the extracted data from all sources. It supplements and normalises itself automatically. In this type of data preparation, logical links are formed that grow into a comprehensive and potentially complete data structure that contains only clean and machine-readable attribute-value pairings.
Ontology as a new structure
Instead of a rigid table, we will organise your new data structure as an ontology – a method in the field of artificial intelligence. The intelligent system is rule-based and draws on a huge amount of experience from already completed, topic-related data sorting, but can also be flexibly adapted to every need with individual rules.
Why our structure is really superior
Unlike text and tables that can represent one- or a maximum of two-dimensional logic connections, the ontology as an intelligent system is capable of mapping a multidimensional data structure. In general, this creates a higher-quality and cleaner information density.
A real-world example: Attributes that are shared between multiple product groups (such as colour or material) only need to be maintained once and are then globally available.
Book an Online Demo
… and get free proof of concept.
Intelligent Data Preparation is the foundation for the future of automation
Your new data structure enables searches in natural language, automatic text creation, product recommendations as well as modern filter& comparison options for your customers. By the way, you are optimally positioned for future AI-based applications.
Enrichment, Normalisation & Some Magic
Intelligent enrichment through logic and any sources
Every rule and logic of your ontology only has to be created once – after that it will be a permanent institution and will work for you completely automatically with always optimal results. New data sources (e.g. from suppliers) are reliably shaped into your desired form. At the push of a button and again and again! In addition, attributes that are logical can be added automatically. If something completely new comes along that the logic cannot represent, a new rule is simply added to cover this circumstance. There is never a need to manually enter a data record again.
Automatic normalisation of comparable values
Impure data is information that exists but is not uniform or comparable. This includes different units, terms in other languages, or often, spelling mistakes. These apparently marginal imperfections stand in your way in modern applications such as product recommendations, comparisons and searches. The bounce rate of customers who can't find what they're looking for is increasing. Data Studio resolves this inconsistent and impure data through intelligent data preparation, creating a clean, normalized data structure.
Your data structure is becoming more and more intelligent
The tool learns and provides insights in your ontology. For example, synonyms and names from other languages are used to enrich and improve your data. Frequent misspellings can be valuable information for applications, such as a product search. In addition, each data point is provided with any meta-information that enriches your processes. For example, this can be a weight for sorting or inheriting attributes.
Book an Online Demo
… and get free proof of concept.
Your data can do more –
We will make you fit for the future.
Your investment into our solution for Data Preparation is an investment into a secure data future. With ontology as the basis for machine-readable data, you can sit back and relax: you are securely positioned for future challenges of digitalisation in your industry.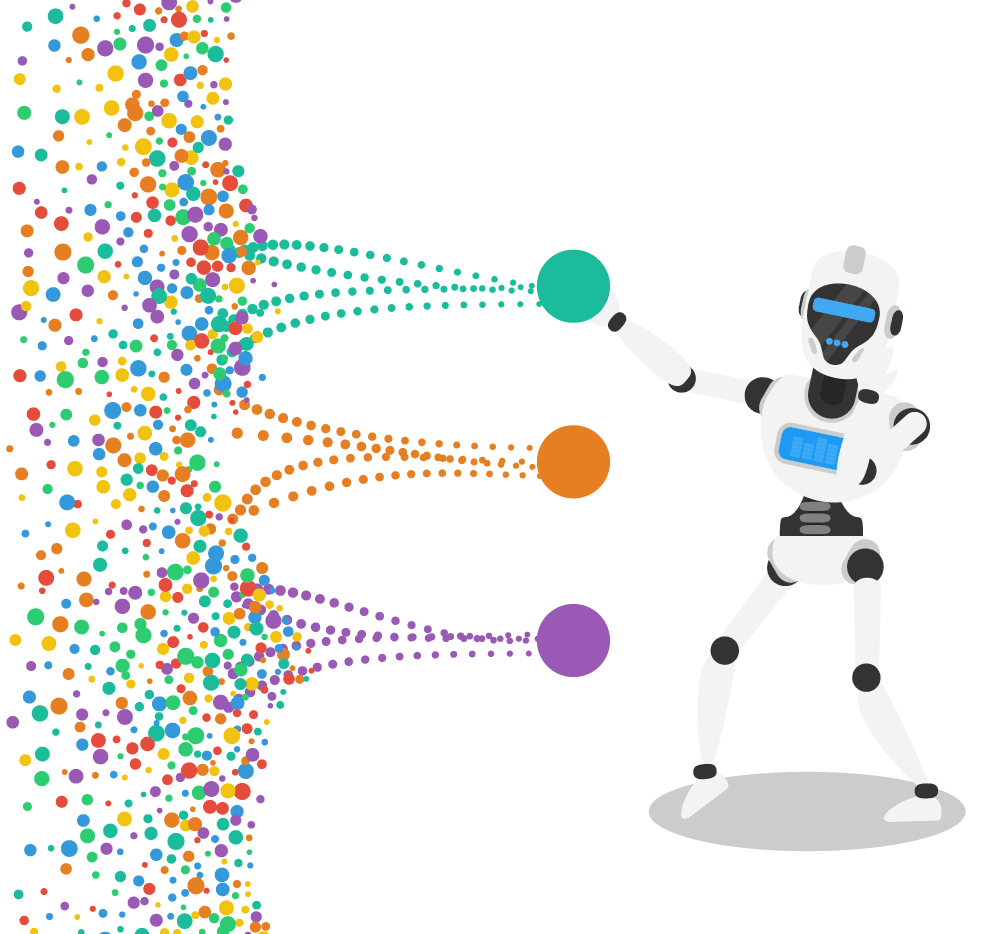 We accompany you on your way to the new data structure and optionally take all steps over from you.
uNaice is committed to automating and simplifying business tasks. The driving force was the own need for optimal tools. Now that we have reached this goal, we are happy to help you with the to more control and better processes with our gained knowledge.
Easy start
Your ongoing processes will not be interrupted. Existing data will remain in live operation. The data processing can take place in parallel. We will take over the hosting.

Cost effective
The effort required to add new entries and information to your data structure is reduced to almost zero. Data Studio and your ontology will do the work for you.
Time to Market
Data (e.g. from suppliers) is brought into the desired form at the push of a button and this can be repeated over and over again. Products are created and updated in no time.
Automation
Your data preparation only needs to be set up once. After that, the automated process is maintenance-free. New raw data is reliably used for enrichment or stored as new entries in a unified manner – again and again.
Flexible
Our tool is here to relieve you of some of your workload. The data sources that are entered for construction or enrichment are completely free in form.
Or simply said: we can turn everything into a good data structure.
Interfaces
The hosting of the automatically processed and stored data is done by us. The direct connection is ideally via a REST API. Optionally, there are various export options for transfer back to your local (PIM) system.
Your personal Proof-of-Concept
You don't want to buy a "pig in a poke"?
We will show you what is possible with your data!
In a short analysis you will learn which data we can structure once and prepare permanently – incl. Cost forecast. This will give you the security for a decision-making basis and has then already created the foundation for a later implementation.
€ 0,-
We will pay the fee for the software licence during the Proof-of-Concept.
Subsequent implementation
If you decide to have your data prepared by us after the proof of concept, you already have the cost analysis in your hands. The exact cost of the one-time processing of your data is determined during the proof of concept. (+ monthly Software licence of € 279 )
Do you have any questions? We are at your service!
Get in touch with us. We look forward to a personal conversation.
uNaice helps you build all the relevant tools to get into full automation.
Extracts, normalises and structures your data from text, tables, and databases into machine-readable form. The optimal basis for a data-driven future.
Your Database & Ontology
Your product ontology is hosted by us. Processed data can be transferred directly via the REST API or on demand by an export function.
The Semantic Product Search Function that understands its customers: Complex search queries in natural language are understood and mapped in a highly precise manner.
Converts structured data into text for customers and search engines: The text robot can write product descriptions, emails, articles, etc. according to your specifications.