As a manufacturer or retailer in the automotive sector, you are probably familiar with this situation: The content situation of your aftermarket sales platforms is somehow chaotic. Terms are not platform-compliant (for example on eBay), keywords are missing or definitely not optimized and your texts convey little information content. Do you generally feel like you need a lot more content, but don't have the time or human resources to create it?
By using the text robot, all these worries will quickly dissolve – as if by a voodoo spell. With it, you can generate an infinite number of perfect texts in no time. Automatically and in 110 languages.
All the challenges of text creation in the automotive sector
The constellation is actually clear: every vehicle owner or operator needs spare parts at some point. Be it original parts or the slightly cheaper alternative parts. You, on the other hand, need good content to sell these parts. This is where we come in to help you out, no matter how much you are suffering from the following torments:
Confusingly written product titles that are neither optimized for humans nor for SEO
confused keyword optimization – if it is up to date at all
Designations that are not platform-compliant
Automated content generation is actually not magic
Quite the opposite! Let us put it in the words of a major player in the automotive aftermarket sector:
How does automatic text creation work in the automotive sector?
Essentially, our text robot can do the following:
Clean up data: This means converting any data from automotive vendors compatible with eBay's data model (as well as any other platform).
Enhance data: In this step, data is automatically enriched in such a way that the added value of a product is clearly highlighted.
Generate texts: Finally, the text robot algorithm formulates a platform-compliant, informative text based on the data. And it does so in a matter of seconds and with the highest precision.
Learn more about how automated content production and structured data go hand in hand in this podcast.
Your automotive data can do much more than you think
The first thing to do is to check your data and make it usable. You have more usable automotive data than you think! However, they must first be put in order and enriched with their added value so that they can be given a uniform and structured form. The data prepared in this way will then be 100% optimized for your sales platform, automatic and scalable.
The DNA of your data: Attributes & Values
Let's dive deeper into the data topic once again, because structured data is the fuel of e-commerce. They increase the information content of a text, promote conversions and leave satisfied customers who are happy to come back because they find exactly what they are looking for.
Why is it so important to improve and clean data?
Existing data is often unsorted, incomplete and, above all, not machine-readable. To guarantee correct interpretations, a clean playout in the texts as well as a higher information density, we structure your data in a future-proof way. This intervention also ensures filtering and comparison options, which include semantic search in your own online store. Of course, this is done based on your specifications and needs. The result is a customized ontology that ensures low error rates, maximum platform compatibility and optimal scaling.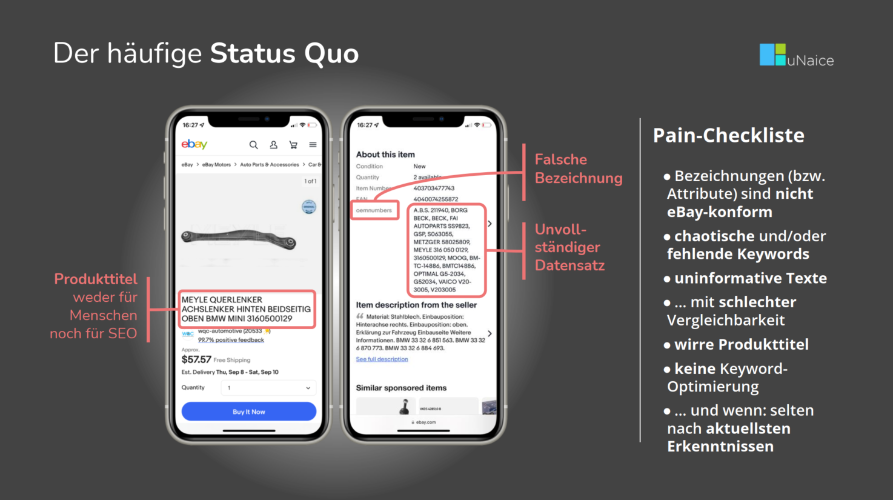 Where does the data come from?
Continuous texts, tables and common data formats (CSV etc.) can serve as sources. Recognized attributes and values are automatically structured, impure data is cleaned. We are very thorough in our approach.
From TecDoc industry standard to platform-optimized language
The automotive aftermarket usually uses the international industry standard TecDoc to designate the goods offered. However, this very often does not meet the language requirements of the various sales platforms. This is where we step in and transform TecDoc data into platform-optimized data.
In plain language, this means:
Different units are converted to your requirements.
Designations are simplified and summarized as needed based on platform requirements.
Errors will be eliminated.
With further sources attributes are supplemented and gaps in the values are closed.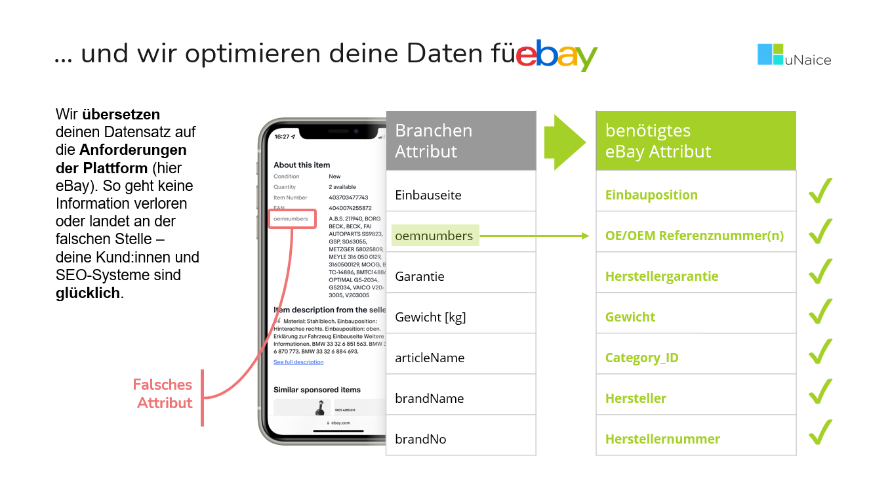 The added value makes the big difference
The added value of a product must be recognized, emphasized and triggered so that it ultimately leads to more conversions. Let's take the example of ATE Ceramic brake pads. These are fundamentally different from those offered by the majority of competitors, because: they produce almost no brake dust and thus keep the beloved rims clean.
So it is very important to emphasize the reduced brake dust in particular.
What does our text robot do in such cases? It interprets the attribute "Ceramic" and combines it with the added value "dust-free" or "reduced brake dust". Every time the attribute "Ceramic" appears, an extra sentence with the value "dust-free" or "reduced brake dust" is automatically triggered.
This makes the text more informative and gives the reader real added value. The strength of the text robot lies in its ability to translate "cryptic" data into understandable language by means of rules that are individually adapted to your content.
Conclusion: The appearance of the attribute "Ceramic" with its value "Reduced brake dust" is recognized as a trigger for an informative sentence extension. The text robot thus creates new possibilities for your platform.
Automatically generated texts adapt to the different platforms
The different shopping platforms have very specific requirements for the content structure of your texts. Optimum visibility is ensured only if they are observed. How can texts differ according to their positioning?
Store: concise, holistic text with high information density
More stores: Additional text variants with identical information density to optimize SEO performance.
Meta Title / Description: Short concise text for Google search results
Newsletters or product blogs: Detailed, editorial texts with narrative guidance and good structure
Twitter: Strong focus on striking statements, as the platform is characterized by character limitations
Instagram: The images are the trump card – the text, on the other hand, must be concise and to the point
Facebook: Similar to Instagram, original content is the name of the game
Last but not least: internationalization
Of course, the automotive aftermarket sector also pays a lot of attention to the topic of internationalization. Therefore, each of your automatically generated texts can be provided in up to 110 languages. It should be noted that no simple translation of the final texts from language A to language B takes place. Rather, texts are created from scratch in each language, taking into account the characteristics of each language. The effort per additional language is much lower than with a manual translation: Up to 90% of the effort can be saved per language.
Want to learn more about internationalization? In our webinar, we explain how this can be done automatically – and what role localization plays in this.
So: Lean back, enjoy the Show!
Speaking of the show: We also successfully exhibited at this year's Automechanika trade fair in Frankfurt. We simply couldn't miss the concentrated power of all the automotive players. That's why we took a stand there as a sub-exhibitor of eBay, one of the leading platformers in replacement line sales. eBay, too, has already recognized the importance of text roboting in the future of the automotive industry.
We hope this article has helped you understand the benefits of automated content generation for the automotive industry.
Because one thing is clear: a new era of text production has also begun in the automotive sector!